Trick of the Trade – Short Script Review (Available for Production) - posted by wonkavite
---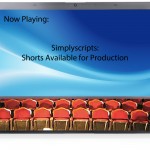 Trick of the Trade
When young Harry needs money to buy a gift, he learns that crime does pay, but in an unexpected way.
There's something about scripts involving school boy crushes, and first loves.  Then again – who doesn't like stories about disreputable (yet somehow charming) con men?  If you nodded to both of those statements, then Trick of the Trade is right for you.  Because this is a script that actually incorporates both of these elements into one package.
Little Harry Cartwright is a simple rural kid, growing up in Depression era Oklahoma.  The light of his life is Susie Clemons, a pretty little school girl and Harry's first love.  Unfortunately for both, Susie's family is moving to Texas. In just two weeks. A crestfallen Harry's committed to getting her a school photo of himself as a keepsake.  Problem is, it costs a quarter.  And that's way too expensive for him.
After his request is rebuffed by his father, Harry sets off to the local Pharmacy to see if he can steal the dough.  He's stopped by Roscoe – a local con man and n'er do well – who tells him to leave the stealin' to more capable folk.  Undeterred, Harry glues himself to Roscoe, determined to earn his pay… in addition to that damned quarter.
The result?  A combination of Ocean's Eleven meets Mark Twain.  It's a satisfying story with a lot of character… perfect for a director looking to prove their storytelling chops.
About the writer: Gary Howell is an attorney who has been writing as a hobby for years, and his short "The Family Man," led to a connection with an Australian film director. The two collaborated on a feature film, "Broad Daylight," which is currently in pre-production, with filming to begin in New Orleans in July. He is currently working on two new features.
Pages: 18
Budget: Moderate to Average.  Trick of the Trade is a period piece.  And there are a variety of locations, and characters. Despite that, there's not much needed in the way of FX – this script is far more character/actor focused than anything else.
READ THIS SCRIPT HERE – AND DON'T FORGET TO COMMENT!
FOR YET MORE SCRIPTS AVAILABLE FOR PRODUCTION:
PLEASE SEARCH SIMPLYSCRIPTS.COM
OR THE BLOG VERSION OF STS HERE.
All screenplays are copyrighted to their respective authors. All rights reserved. The screenplays may not be used without the expressed written permission of the author.