Mercy – Short Script Review (Available for Production) - posted by wonkavite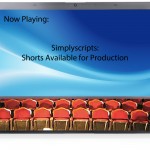 Mercy
An ailing elderly man and his loving wife revisit defining moments in his past. 
Despite what certain script gurus say, not every script needs conflict. Or character arc. Some of the best short films simply give their audience a slice of life – illuminating aspects of the human condition we can all relate to. And characters that we empathize with, and care about.
Case in point – Mercy. A simple script with two main characters, Mercy follows Mary and Aaron Lewis (60s) as they sit down to browse through old photo albums. Debilitated by disease, Aaron can barely even hold his cup of tea. But despite their troubles, the love of this couple still burns bright – depicting a relationship we can all envy. Even as it reaches its invitable end…
Short, sad and sweet, Mercy is a drama in its purest form. A small psalm to aging, mortality – and what love sometimes requires.
About the writer: Born and bred in Derry Ireland, Mark resides in upstate NY with his wife and 2 beautiful daughters. Having started writing 5 years ago as a hobby,  he has 2 features and is currently collaborating in 2 more – with over 20 shorts and a TV series under his belt. His TV pilot "Loserville" was a finalist in the Wildsound competition. Mark currently has one short produced "11:07″, which can be viewed here http://www.simplyscripts.net/cgi-bin/Blah/Blah.pl?b-Chat/m-1399123256/
Contact Mark via email at mmrem24 AT yahoo

Pages: 6
Budget: Minor. The majority of the script takes place in a living room… with a few outdoor flashbacks.
READ THE SCRIPT HERE – AND DON'T FORGET TO COMMENT!!
FOR YET MORE SCRIPTS AVAILABLE FOR PRODUCTION:
PLEASE SEARCH SIMPLYSCRIPTS.COM 
OR THE BLOG VERSION OF STS HERE.
All screenplays are copyrighted to their respective authors. All rights reserved. The screenplays may not be used without the expressed written permission of the author.