Script Shop show – Your Ride Is Here by Clay Snell - post author Don
---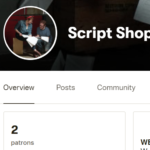 I am a regular (as of April) Patreon supporter of the Script Shop Show. I am one of many supporters of the show. You should be a supporter, too.
They most importantly talk about this feature script Your Ride Is Here by Clay Snell.
One night. One driver. Three different stories.
Listen to the show and more importantly, please support them. And check them out on twitter. Twitter is their jam.