Script Shop show podcast – Philia by Nick Westfall - post author Don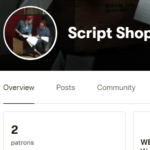 I am a regular (as of April) Patreon supporter of the Script Shop Show. I am one of six supporters of the show. Nick and Allison shouted out to all six of their patrons.
They most importantly talk about this short script Philia by Nick Westfall.
Bartholomew Chester comes to terms with his own insanity through an intense self-interrogation.
Listen to the show and more importantly, please support them.