Script Shop Show podcast – Inked in Blood | Paul Corricelli - post author Don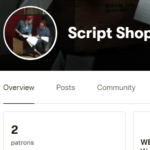 I am a regular (as of April) Patreon supporter of the Script Shop Show. I am one of many supporters of the show. You should be a supporter, too.
They most importantly talk about this feature script Inked in Blood by Paul Corricelli.
A tortured man returns to the town he ran away from as a child to exact his revenge on all those who wronged him and face the one man he fears the most… his father.
Listen to the show and more importantly, please support them. And check them out on twitter. Twitter is their jam.