Fight Belle by Aimee Parrott & Antonio Gangemi filmed as Fighting Belle - post author Don
---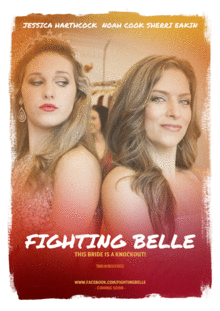 When a sassy Southern belle is stood up at the altar by her boxer fiancé, she dons the gloves hoping to salvage her pride by hooking up with her ex one last time – in the ring. 108 pages
Almost ten years ago Aimee Parrott & Antonio Gangemi submitted Fight Belle to the Unproduced Scripts page. About five years ago, Aimee told me that it has been discovered on SimplyScripts* and was in pre-production with Integral Pictures. Last night I reached out to Aimee to get her contact information updated and she informed me that Fighting Belle would premiere on Saturday, March 18th 2017! I think this is the first feature to get picked up from the site.
If you live near Ocean Springs, Mississippi, you can attend the Theatrical Premiere of Fighting Belle. Please check out the Fighting Belle Facebook page and get more information about the movie on the Fighting Belle IMDB page.
Discuss this on the Discussion Board.
*These results using SimplyScripts are not typical.