So, what is up with the OWC? - post author Don
---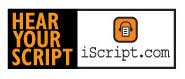 Writers revealed. Head over to the One Week Challenge page and see who wrote what. You can also check out and comment on who wrote what scripts on the Discussion Board.
Next week, I'll shoot over to iScript.com three scripts of which they will choose one to be audio performed.
Additionally, one participant in the OWC will be selected to have a feature length script they have written covered by the excellent Sandy Gunter of Whiskey Loose Tongue. Sandy has read for several major studios like Imagine, Buena Vista, New Line and Fox. In addition, he is a past reader for the Nicholl Fellowship and IFP.
Lastly, I've run the Musicals database through the link checker and updated the links, so past broken links should work. – Don