Script Shop Show podcast – The Creepy House by Shoshana Rosenbaum - post author Don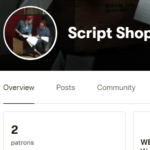 I am a regular (as of April) Patreon supporter of the Script Shop Show. I am one of six! supporters of the show. You should be the seventh! Alas, no shout outs this show…
They most importantly talk about this feature script The Creepy House by Shoshana Rosenbaum.
On a Halloween dare, a timid tween goes into an abandoned house — and develops a surprising connection with the ghost of a girl who died long ago. When the house is slated for demolition, the neighborhood kids join forces to save the ghost.
Listen to the show and more importantly, please support them. And check them out on twitter. Twitter is their jam.