Sean Elwood's AfterLife AfterDeath available on Amazon! - post author Don
---
Sean Elwood has been a long time and major contributor to the screenwriting and SimplyScripts community. Never a fan of horror, Sean reintroduced me and taught me to appreciate some of the subtle nuances of the horror genre. Sean has just published his nineteen tales of horror and suspense available on Amazon*. You can also get more information about this and Sean's other works on his website SeanElwoodArt.com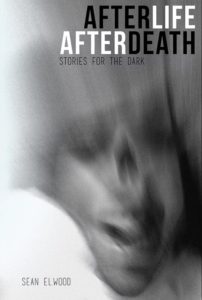 AfterLife AfterDeath: Stories for the Dark presents nineteen chilling tales that will creep beneath your skin and chill you to the bone, opening up some of the most primal feelings that every human being retains of death, darkness, and the fear of the unknown. Follow a man who returns to his childhood home after his mother's suicide, only to discover something evil residing within it, and has been waiting for him to return; A dispatch operator receives a terrifying 911 call from a frantic woman who finds her entire family slaughtered; Three teens chasing an urban legend get more than they bargained for when the rumor ends up being true, and more than just a ghost story; A public channel broadcasts something strange to the residents of an apartment building, who begin to act even stranger; A horrific nightmare comes to life for a passenger on a plane traveling overseas. These stories will make you reconsider what truly lives in the darkest shadows of your home, and instill fears you thought you would never have. Turn the lights off!
Purchase Afterlife Afterdeath >
*I am an Amazon affiliate and a small percentage of sales goes to support and keep SimplyScripts free.