No BullScript Consulting – Danny Manus Introduction and Script Review - posted by wonkavite
And lo, a new era at Shootin' the Shorts begins….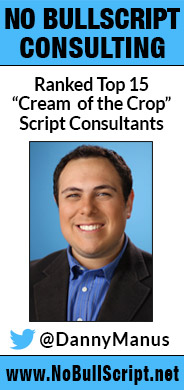 One month ago, we at STS began Stage 2 of the site's development: reviewing features. On June 1st, we showcased the first of many future feature length scripts, Based on a True Story by Matthew Dressel. Today, we are thrilled to announce that we have finalized plans with a partnership that we strongly feel will enhance both the feature showcase, and provide our writers with a double-helping of what they need and want – and what we aim to provide, i.e., assistance with making their scripts the best they can be, and getting those scripts exposure when they reach that oh-so-blessed point.
To that end, please welcome Danny Manus of No BullScript Consulting. Having worked as a development executive in Hollywood, Danny is an in-demand script consultant, named by Creative Screenwriting Magazine as one of the "Top 15″ consultants in their "Cream of the Crop" list. As part of the new partnership, Danny will be providing wonderfully detailed notes once a month for the chosen STS showcased feature length script. These notes will be provided free to the writer, and can be posted on STS or kept confidential – at the writer's discretion. Oh – and did we mention? Any script that gets a coveted "recommend" from tough but eminently fair Danny will be featured in his monthly newsletter and may also receive further exposure to his production contacts.
Below, please find Danny's notes/coverage for Based on a True Story. But first… a few words from the man himself.
******
From Danny:
Welcome, writers, to the new 'Simply No Bull' Zone. Getting notes and professional feedback is a vital part of the writing and development process, and Simply Scripts and No BullScript Consulting is now bringing this part of the process to YOU for free. Every month, from YOUR feature film script submissions to Simply Scripts, a Featured Script of the Month will be chosen and that script will get the No Bull treatment from me. With each set of notes, I will go through what works wonderfully about the script, but also what still needs work or more development for it to become a stronger, more commercially viable project.
Not only will the project get notes, but also a 20-Point Grading Sheet and Recommendation. Any script that gets a 'Recommend' from me will also be featured in my monthly newsletter and may be sent out through my No Bull Hollywood Connection, where scripts that are truly ready get their logline and query letter sent to over 65 production companies, managers and agents by way of personal email from me.
Submit your script today HERE and it may be the next feature project chosen. Don't forget to read and comment on the scripts yourself. If you wish to contact me directly, I can be reached via the No BullScript Consulting website at http://www.nobullscript.net/contact/. Or on Twitter @DannyManus. Now, without further interruption, here's a sample of what to expect:
NO BULLSCRIPT ANALYSIS
Title: Based on a True Story
Type of Material: Screenplay
Author: Matthew Dressel
Number of Pages: 112
Submitted To: Simply Scripts
Circa: Present
Location: Los Angeles
Genre: Comedy/Heist
Coverage Date: 6/18/14
Budget Range: Low
________________________________________________________________________
COMMENTS: Matthew, thank you for submitting your script, "Based on a True Story"to Simply Scripts. The following notes and comments will go through what works well and what still needs to be worked on or changed in order to make this a more viable and commercial script.
The old adage "write what you know" usually hurts more writers than it helps. This is for the very simple reason that most writers don't know what that actually means. However, this script takes that adage and gives it a strong, elevated kick to the nuts. The single most cliché setup/concept/goal I have read in scripts (other than saving the world) is where the main character is a writer trying to break into Hollywood and sell their script. It is what far too many new writers choose to write about, because it's "what they know" and this always leads me to ask the question – "Is that ALL you know?" Because 99.8% of the time, these stories are cliché, boring, unoriginal, and not very visual or compelling.
However, your script seems to be an exception. It takes the very cliché character motivation and set up and takes it into an original, over the top, funny, and well-written direction. It takes the question "What could possibly go wrong?" and repeatedly shows us exactly what the answer is to nice comedic effect. There is a thin line between over the top farce and spoof, and your script stays just on the right side of that and the writing shows off a level of skill and voice I think would appeal to many managers and producers. It feels in the vein of films like Trapped in Paradise and 30 Minutes or Less.
While I do think the concept itself might work even better as a short film than a feature (or it feels like perhaps the concept started as a short), you do a great job at every plot turn of increasing the stakes and finding new directions for the story to go in that elicit even more comedy. It's hard in a comedy of errors to constantly find more errors that create comedy, but you use all the tenets of strong comedy to do so and advance the plot – miscommunication, mistaken identity, misdirection, miss-timing – and of course Nazis.
It's likewise difficult to make characters with pretty superficial goals and little forethought into consequences feel likeable and castable, but Bill and Tim both become quite likeable.
Tim has a nice arc in his shyness and when he finally overcomes it, it is to hilarious results with the Nazi supporters. But what I really like about Tim is that he's gay but you never ever play up that fact. It's an off-the-cuff comment on one page thatclues us in, but it's never made a big deal of. He just happens to be gay, and that's something I don't see often enough in scripts.
My biggest issue with Bill and Tim is that they are actually willing to go to jail for this plan. They know it's a possibility and they are OK with that. I don't quite buy this from two guys who are NOT criminals and are just trying to become famous. There would need to be a better reasoning for them to just accept this, like if they got convinced that going to jail would give them street cred or more experiences to write about. They could list all the movies/TV shows about jail or writers and actors who have been to jail who went on to become mega stars. It has to play into their motivation instead of just being dismissed like it's no big deal.
At some points, Bill seems genuinely delusional about what they are doing and what it will get them, especially once the robbery is already going on (and going badly). It becomes unclear what Bill thinks their actual endgame is once the cops show up. How does he THINK this will actually end and how did he plan on giving himself up?
Terry is a questionable character for me because when they ask in the audition montage if he's ever been convicted of a felony, he seems lost and quite innocent, but then on page 33 he seems like a totally different character, drinking, gun-toting and starting a crime spree. He becomes this violent psychopath, but it's not clear where this comes from. On page 34, I'd suggest changing his line at the top to "A little dress rehearsal." Likewise, the series of shots of his crime spree are a bit unclear as we don't know what establishment he's holding up. It's not clear why they hire Terry in the first place and why they don't fire him. Perhaps Tim could want to, but they are both too scared to do it and they can comment on how "I think we broke Terry."
The audition montage is funny, but I think some of the characters they meet in that audition need to be the ones we see later on in the "roles" involved in their heist plot. Otherwise, it's just a meaningless montage gag. Yes, they find Nancy, but she seems to be the only one they hire from a two page montage.
The structure is quite strong and your opening scene blends both comedy and action nicely and sets up an interesting glimpse into the tone and madness that is going to come in the story.
Your subplots, each seemingly more over the top than the last, connect well with your main storyline and help elevate the general concept and theme. If you had told me that Nazis, David Bowie, Rick Moranis, bank heists, fake detectives, and Hollywood could all come together cohesively, I would have bet against you. But you make it work.
However, there are a number of characters or parts of Bill's plan that aren't set up or explained enough. Bill says that they will hire actors and script it all out, but it's not really clear which parts he's hiring actors for and if THEY are still going to be the ones actually robbing the bank. As I said, maybe some of the actors playing "roles" inthe heist – like Carl and Vic – should be seen in the audition montage because right now, they are just random people.
The robbery before the robbery with Vin and Lonny, for me, is quite confusing. While it's hilarious in the opening scene, it becomes unclear as they are leaving the bank and Bill and Tim are entering, if that was part of their plan. Were Vin and Lonny in on it with Bill? If not, their brief interaction as Vin leaves doesn't make much sense. Bill's dialogue on page 45 confirming that the bank is already being robbed makes it seem like both groups are in it together, especially since he acknowledges that Sam will be asked to leave. In the bank, Vin says "who the fuck is Bill?" But then as they cross paths, Vin says "thanks for the clean get away" so this sequence created a "HUH?" moment for me where I was no longer sure how/if these two were connected. Page 52 with Bill's seemingly forced questioning that the bank had already been robbed furthered this confusion, especially since he just saw them leave with bags of money. He seems to know it's already being robbed, but not sure by whom. This was the biggest sticking point in the plot for me. I think you need to make this plot point clear, and perhaps show a scene of Vin and Lonny later on in the script to see what happened to them. Are they watching this craziness unfold on TV? I think there needs to be a button scene with a bit more payoff and explanation for this other robbery.
Also, the initial robber is named VIN. The fake cop that is part of Bill's plan is named VIC. I actually thought the whole time that they were the same person and that VIN had come back to play the "role" of the cop, which confused me greatly. You should never have two names of two different characters that similar as many readers may not turn back to make sure it's not the SAME name. I kept wondering why the bank robber would come back to the scene of the crime and chance being caught, and also how the first robbery was connected to them.
While I love the Nazi bit in the script and how it pays off, the leader TERRENCE needs a bit more set up as I didn't remember seeing him earlier in the script before page 90. We only get the incredibly brief background mention that Neo-Nazis are planning a rally on page 20, and I'm not sure this is enough set up for that. Also, again, you already have a TERRY character, so now having a TERRENCE character makes it very confusing on the page. Terry/Terrence, Vin/Vic – these little things confuse your story where there need not be any confusion if you just used different names.
Rick Moranis' cameo is hilarious, and he could be switched out with any other actor, which is smart. You have a great set up and pay off for this, but there's a line on page 28 about "How is he supposed to get into the bank?" that I didn't quite understand until later when Moranis shows up and tries to get in. I didn't get why Moranis wouldn't already be IN the bank for his role. Why he'dhave to come in half way through if he was playing one of the bad guys. This little logistic issue was a "HUH?" moment for me on page 28.
One thing that impressed me throughout your script are your wonderful transitions. This shows a visual eye and a finessed voice that many scripts are lacking. Strong, seamless transitions between scenes is one of the signs of a writer at the "next" level.
Similarly, strong writers know how to craft strong reveals in their script. Whether it's a hidden plot reveal or a comedic reveal of a visual or gag, it takes a talented hand to craft strong trailer moment-worthy reveals, and you have a number of them. One such example is the reveal that Bill works as a 911 phone operator. Great build up, great reveal, and it's unexpected, which creates great comedy.
There are a number of great set ups which are almost throw-away lines or actions, that come back to pay off in big ways later on in the script, including mentioning the CAMEO by a big actor and Tim stealing the props from the set. And I really enjoy the irony that Tim (and Bill) become famous and the footage goes viral for all the wrong reasons. Creating strong irony in your story is also a sign of a mature writer.
That being said, perhaps my biggest issue with the script is the logistic and time jump issues in your third act, as well as tying up some more of the loose ends and plotlines. To jump 20 years later after your climax is a huge jump that causes some logistic issues. For instance, no one WOULD care about this "true story" 20 years later, and Rick Moranis would be almost 80 years old. I didn't BUY the conversation Bill has with the producer on page 110 because it's just been too long since the robbery happened. I would suggest re-examining the last couple of pages, perhaps making the time jump only 5-8 years? And include a bit of dialogue that ties up some of the other characters and storylines – Nancy, Terry, Vic, Sam, Cardigan, Vin, etc. And I think Bill's last line of the script could also be a bit stronger. I wouldn't end the movie on a fading show of tem driving away arguing – I think it has to be an exact beat and a sharper last moment.
I still wanted to know a bit more about what happened to Nancy, their female accomplice, in their story. I thought she might have been used more in the plot, either as a romantic interest or as a pivotal plot device. Terry approaches her and tells her she's going to have to make a choice, which would create a great moral dilemma for Nancy – but that moment never really arises and is never used.
The dialogue is sharp and funny, and you know how to create big comedic moments as well as quirky subversive moments. After reading this script, I'm not SURE that it is an easy sell given the goal of the characters. Most people in the broad viewing audience don't really give a crap if someone sells a script or not – it's not a goal they can relate with enough (which is why more stories about breaking into Hollywood don't get made). But I think this makes for a great writing sample and I would absolutely be interested in seeing what you could do with a different concept and story.
Stick with it! Keep writing! And best of luck! Thanks again Matthew for submitting your script "Based on a True Story" to Simply Scripts, and congratulations on being the featured script of the month.
NO BULLSCRIPT 20 POINT GRADING SHEET AND RECOMMENDATION:
PROJECT: STRONG CONSIDER
| | | | | |
| --- | --- | --- | --- | --- |
| Elements | Excellent | Solid | Needs Work | Poor |
| Concept/Premise | | X | | |
| Story | | X | | |
| Structure | | X | | |
| Conflict/Drama | | X | | |
| Consistent Tone | | X | | |
| Pacing | | X | | |
| Stakes | | X | | |
| Climax | | X | | |
| Resolution | | | X | |
| Overall Characters | | X | | |
| Protagonist | | X | | |
| Antagonist | | X | | |
| Dialogue | | X | | |
| Transitions | X | | | |
| Format, Spelling, Grammar, Pg Count | X | | | |
| Well Defined Theme | | X | | |
| Commercial Appeal/Hook | | X | | |
| Overall Originality | | X | | |
| Production Value | | X | | |
| International Appeal | | X | | |