Noble Rot – John Belushi and Don Novello's unproduced script - post author Don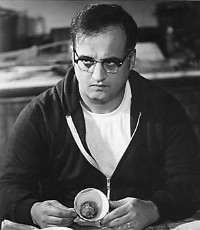 I was dorking around Subterranean Cinema this evening.
Let me digress. Subterranean Cinema is the definitive site for movies you've never heard of. Movies that are subversive, weird or just not mainstream. I was introduced to films and scripts such as Andy Kaufman's The Tony Clifton Story and the George Romero version of The Stand (based on the work by Stephen King) and The Day the Clown Cried, the unreleased Jerry Lewis movie about a circus clown who led children to the gas chambers during World War II.
Yes, stiff stuff.
Most recently, they've aquired Noble Rot a January, 1982 unspecified draft screenplay adapted from Sweet Deception by Jay Sandrich that Don Novello (known better as Father Guido Sarducci) and John Belushi were working on just before John Belushi had one speedball too many and left this world.
According to Subterranean Cinema this was to be a a romantic comedy/adventure about a young, un-sophisticated guy named Johnny Glorioso, who takes an elite new California wine to a New York wine tasting contest (the wine has the much desired and very rare fungus named Botrytis or "noble rot" of the film's title, that can either destroy an entire crop or turn it into a legendary smooth and sweet wine), falls in love with a very untrustworthy but sexually desirable young
woman named Christine, becomes involved with a diamond smuggling ring, and maybe grows up a little and loses his naivete in the process, while getting the last laugh in the kind of final scene that audiences loved seeing Belushi have.
Belushi considered it the role he was born to play, and became obsessed with getting it produced.
You can read the script in html format from SubCin:
Part 1
Part 2
Part 3
Part 4
In addition, you can download the pdf version if you have winrar to open it here. Or, you can download the script in two parts here: Part 1 and Part 2
More information about the John Belushi movie that never was:
John Belushi's visit to Coturri Winery scouting shooting locations
Writeup of the script. – Don