The Drabblecast – an introduction - post author Don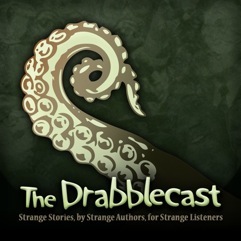 It is no secret that I'm a big fan of short speculative fiction in audio format.
I like to listen to stories on my MP3 player while cleaning the pool.
I strap my MP3 player to my head with a broken bit of swimming goggle strap and then get in the water and walk clockwise around the pool for 10 minutes. This creates an eddy in the middle of the pool where all the leaves, band-aids, scabs, legos and phlegmy stuff collect. I then suck this mass up with a hose. When I do this, I listen to The Drabblecast, an audio podcast of "Strange stories, by strange authors, for strange listeners… such as yourself".
See? It all makes sense if you just hang in there.
The Drabblecast is a short audio fiction podcast narrated and produced by Norm Sherman and edited by Kendall Marchman and Luke Coddington.
Each episode presents a drabble, which is a story exactly 100 words, and follows with a short story written by some of the best writers in speculative fiction like Mike Resnick and Eugie Foster. The drabbles and stories are generally nothing you'll find in other podcasts. The Drabblecast "aims to present stories too eccentric, disturbing, funny, and downright fun for more dignified genre publications. "
So, if you like strange stories about animal death matches or ghosts in computers or hog-faced men, head over to drabblecast.org and download a couple of episodes. Listen to them while cleaning the pool. There is nothing like being discovered floating in the pool in a pink innertube with an mp3 player strapped to your head giggling to yourself – Don
P.S. Oh! Tonight at 11:59 pm edt – the One Week Challenge will be announced. Be there!