Papadopoulos & Sons screenplay - post author Don
---
Thanks to Marcus for the heads up on this indie film and script (available to watch on Amazon Instant Video).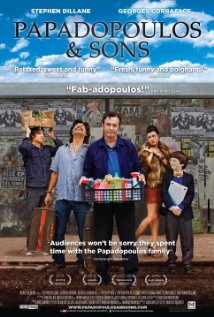 Papadopoulos & Sons – March 12, 2012 final draft script by Marcus Markou – hosted by: Papadopoulos & Sons – in pdf format
Self-made businessman Harry Papadopoulos has got it all; a mansion house; awards and a super rich lifestyle. However, on the eve of a property deal of a lifetime, a financial crisis hits and the banks call in their huge loans. Harry and his family lose everything in an instant. Everything, except the dormant and forgotten Three Brothers Fish & Chip Shop half owned by Harry's larger than life brother Spiros who's been estranged from the family for years. With no alternative, Harry and his family, plant enthusiast James; fashion victim Katie; nerdy Theo and their loyal nanny Mrs. Parrington, are forced to pack their bags, leave their millionaire lifestyle and join 'Uncle Spiros' to live above the neglected Three Brothers chippie.
Information courtesy of imdb.com