Apocalypse Now 1969 first draft script - post author Don
Thanks to Heretic for the heads up on this. First draft of Apocalypse Now from 1969. Final shooting draft provided to compare.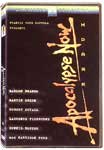 Apocalypse Now – December 5, 1969 first draft script by John Milius – hosted by: http://cinearchive.org – in pdf format

Apocalypse Now – shooting draft script by John Milius and Francis Ford Coppola – hosted by: Daily Script – in html format
Based on Joseph Conrad's Heart Of Darkness, this is a controversial addition to the multitude of Vietnam war movies in existence. We follow Captain Willard on his mission into Cambodia to assassinate a renegade Green Beret who has set himself up as a God among a local tribe. Notes taken by Coppola's wife have recently been used to create "Hearts Of Darkness" – a fascinating and revealing account of the making of this movie.
Information courtesy of imdb.com