The Hindenberg – 1974 screenplay - post author Don
Thanks, Jake, for the heads up on this blast from the past!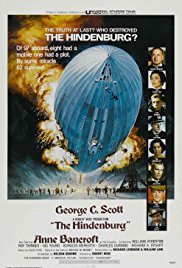 The Hindenberg – April 22, 1974 2nd draft script by Nelson Gidding (based on the book by Michael M. Mooney – hosted by: 0 – in pdf format
The Hindenburg is the pride of Nazi Germany, a dirigible with regular flights from Frankfurt to Lakehurst, New Jersey. When the Germans receive a warning that the Hindenburg will be destroyed by a bomb as it flies over New York City, they assign Luftwaffe Colonel Ritter to travel on the airship as its security officer. There are many passengers on board – a German countess, a circus clown, two card sharks and many others – and Ritter is kept busy keeping an eye on them as well as the crew. When they learn that the person who reported the threat is actually a self-styled psychic, there is some question as to whether they may be chasing shadows. Ritter soon learns otherwise.
Information courtesy of imdb.com