22 July screenplay For Your Consideration - post author Don
Netflix has put back up 22 July. There are now 19 scripts studios are posting for award consideration.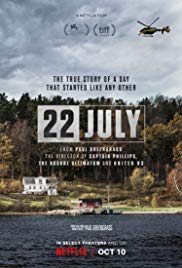 22 July (provisionally titled "Norway") – August 3, 2018 shooting draft script by Paul Greengrass Based on: "One of Us" by Åsne Seierstad – hosted by: Netflix – in pdf format
A three-part story of Norway's worst terrorist attack in which over seventy people were killed. 22 July looks at the disaster itself, the survivors, Norway's political system and the lawyers who worked on this horrific case.
Information courtesy of imdb.com