The Front Runner script – For your consideration - post author Don
Thanks to Barksid for the heads up. Another script studios are posting for award consideration.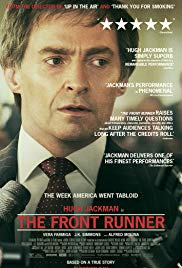 The Front Runner – July 27th, 2017 unspecified draft script by Matt Bai & Jay Carson & Jason Reitman – hosted by: Sony – in pdf format
The film follows the rise and fall of Senator Hart, who captured the imagination of young voters and was considered the overwhelming front runner for the 1988 Democratic presidential nomination when his campaign was sidelined by the story of an extramarital relationship with Donna Rice.
Information courtesy of imdb.com