Elizabeth Blue screenplay – For Your Consideration - post author Don
Thanks "Barksid" for the heads up on one more FYC script, this one, a little-known film called ELIZABETH BLUE.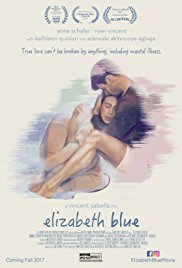 Elizabeth Blue – Undated, unspecified draft script by Vincent Sabella and Alfred D. Huffington – hosted by: Elizabeth Blue Guilds – in pdf format
After being released from a mental hospital, where she was coping with her schizophrenia, Elizabeth is now living in a studio apartment with her fiance, Grant. With the love and support of Grant and the help of her new and determined psychiatrist, Elizabeth is doing her best to navigate through life. Haunted by daily voices, hallucinations, failing medications and her cold and seemingly unsupportive mother, Elizabeth attempts to regain control of her mental stability.
Information courtesy of imdb.com
More on the scripts studios are posting for award consideration page.