The Comedian for your consideration - post author Don
Sony Classics is the gift that keeps on giving with: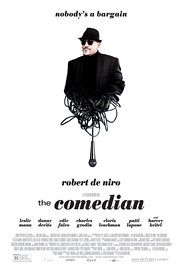 The Comedian – Undated, unspecified draft script by Art Linson & Jeff Ross and Richard Lagravenese and Lewis Friedman (story by Art Linson) – hosted by: Sony Classics – in pdf format
Jackie Burke, an aging comic icon, has seen better days. Despite his efforts to reinvent himself and his comic genius, the audience only wants to know him as the former television character he once played. Already a strain on his younger brother and his wife, Jackie is forced to serve out a sentence doing community service for accosting an audience member. While there, he meets Harmony, the daughter of a sleazy Florida real estate mogul, and the two find inspiration in one another.
Information courtesy of imdb.com
Check out more Scripts Studios are Posting for 2016 – 2017 Script Award Consideration