The Dule Tree – Short Script Review (Optioned!) - post author Anthony Cawood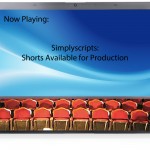 The Dule Tree
A troubled young girl befriends a man condemned to death.
It's hard to do a period piece right. Sadly, it usually ends up with powdered wigs, Halloween costume clothes, and far too many "yee olds" for modern comfort. But Odd Couple scripts? There's an ingredient that works! Oscar and Felix. George and Lennie (Of Mice and Men, you heathens!). And – if you must be more current, Arya Stark and the Hound from Game of Thrones.
Speaking of gritty medieval stories… The Dule Tree is one script that has a distinctive George RR Martin vibe. Imagine a world so real you smell the festering dirt that lingers in the air. Come with us as you're transported back 400 years to a lonely English field. Where a certain man's life hangs by a thread…
The story opens on little Rose – a seven year old study in innocence. While wandering through the fields, she runs across convict Galle – imprisoned in a gibbet for some unspoken, heinous crime. (For those of you unclear of what a gibbet is, it's a cage suspended from a tree. Don't feel bad. Some of us at STS didn't know, either.) Galle's wounded, weak, starving – and tortured by passing children throwing rocks. After a few cautious words, Rose and Galle strike up an uneasy friendship. Over the next few days, Rose asks Galle questions and brings him bread. But what Galle really needs is to be free. Can he convince the girl to help him escape? And can he be trusted?
No matter the genre, the heart of all scripts is character. Is there chemistry? Will your audience care? Subtly written, the growing bond between Rose and Galle stands with the best of them. The Dule Tree is an effective dark short with tons of potential… sure to leave no dry eye in the house!
About the writer: Steve Miles decided to get serious about writing around three years ago. Since then he's concentrated on putting together a collection of shorts with a goal of finishing up a feature or two by years end.  Oh, and giving George RR Martin a run for his money! Email him at stevemiles80 "AT" yahoo.co.uk
Pages: 9
Budget: Moderate. A field. Two characters. And a gibbet. Now that we know exactly what that is… J
About the reviewer: Anthony Cawood is an aspiring screenwriter from the UK with a number of scripts in various stages of production, two of which have just wrapped shooting. His script, A Certain Romance, recently won in the Nashville Film Festival Screenwriting Competition (short script category). You can find out more at http://www.anthonycawood.co.uk.
READ THE SCRIPT HERE
Find more scripts available for production
This screenplay may not be used or reproduced for any purpose including educational purposes without the expressed written permission of the author.