In the Grip of Denial – Short Script Review (In Production!) - post author Guest Reviewer
---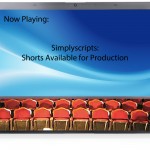 In the Grip of Denial
After a brutal car crash, a man slowly unravels the truth behind his survival.
Gary Parrish drives his car late at night; accompanied by the blur of the dark road, his guitar case in back. His cell phone rings: he looks away from the wheel… jumps the shoulder and slams into a tree.
Blackness. Followed by the beeping of a hospital monitor. When Gary awakes, his fiance Melissa is at his side.
After a brief hospital stay, Gary heads home with Mel. There's been some nerve damage in his arm, but otherwise everything's okay. He's a lucky man… or is he?
Recuperating at home, Gary finds himself frustrated at every turn. His beloved guitar's been smashed to bits. And even the simplest tasks become daunting: dressing himself, holding a beer bottle, or playing football with his friends. His relationship with Melissa increasingly strained, Gary rushes his return to work – to find he can't even hold his pen. His awkward co-workers seem strangely subdued.
Confronted by an increasingly alarmed Mel, Gary finds himself facing a harsh choice: deal with the truth of what happened that night. Or let his grip on reality slip away…
A unique dramatic script, Grip of Denial offers its readers the full package – fully realized characters you'll care about… wrapped in a touch of mystery.
About the writer: Zach Jansen is an award-winning and produced screenwriter from Saint Paul, Minnesota.  He enjoys spending time with his kids, anything movies, and sitting at his desk pounding out his next script.  If for some reason you want to learn more about him, you can check out his IMDb page or quasi-frequently updated blog.
Page Count: 14
Budget: Mid-range. The car crash could be mostly implied. Settings include an office building, hospital, home and garden – and a cast of various extras to portray friends and coworkers.
About the guest reviewer: A writer himself, Leegion's works can be found on www.simplyscripts.com.
FOR YET MORE SCRIPTS AVAILABLE FOR PRODUCTION:
PLEASE SEARCH SIMPLYSCRIPTS.COM 
All screenplays are copyrighted to their respective authors. All rights reserved. The screenplays may not be used without the expressed written permission of the author.