Easy A screenplay - post author Don
Thanks Chris for the heads up on this.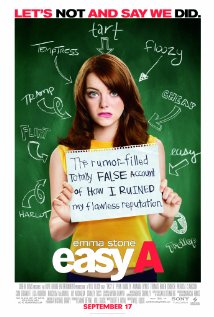 Easy A – August 3, 2008 first draft script by Burt V. Royal – hosted by: Screenplay Explorer – in pdf format
After a little white lie about losing her virginity gets out, a clean cut high school girl sees her life paralleling Hester Prynne's in "The Scarlet Letter," which she is currently studying in school – until she decides to use the rumor mill to advance her social and financial standing.
Information courtesy of imdb.com
Read more on the Movie Scripts page.