The October One Week Challenge Theme is… - post author Don
Odd but interesting character(s) take refuge from a hurricane in a beat-up motel and are forced to make a choice between good or evil in order to survive the night.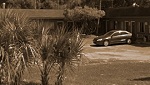 Each character must have some history involving a supernatural event in their lives that factors into their choice. Genre is open. This is a micro-budget short, so no destruction of the motel, no children or animals and minimal special effects.
You must write one script (properly formatted) between 6 to 12 pages (courier 12 point font) on this month's theme. Submit your script here. The script must be received by Friday, October 19th at 11:59 pm e.d.t.. Please do not put your real name on your script, however, please use your real name and real e-mail address on the submission form. (After the exercise closes you can either have your script removed or resubmit the script with your name on it). Please put "(c) Copyright 2012" on your script.
One script per person.
This is a free exercise. This isn't a contest. However, one script will be selected to be audio performed by iScript.com.
We've been very lucky to have iScript sponsor the OWC for the last several years by providing an audio performance of one script from each of the challenges. Check out some from past years:
Veil of Blood – Ryan Lee.
Glass Rain – Julio Weigend
Old Ninty-Nine Face – Cameron Mitchell
Mister Schultz's Zombie Army – Phil Clarke Jr.