Elf-Analysis by Antonio Gangemi and Aimee Parrott Featured Script of the Month - post author Don
Elf-Analysis by Aimee Parrott and Antonio Gangemi – Featured Script of the Month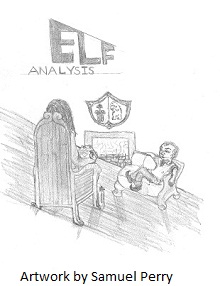 Elf-Analysis by Antonio Gangemi and Aimee Parrott
A cynical psychologist analyzes slacking elves in a last-ditch effort to save Christmas. (Comedy)
Read the Script 108 pages in pdf format
Status: Available



Writer Bio: Husband and wife writing team Aimee Parrott and Antonio Gangemi met on a train platform in Boston in 2003. It was raining cats and dogs, the mood was perfect. They soon discovered that they'd grown up watching the same old movies. Tony had already written one screenplay and Aimee was writing film reviews and working on a novel. It wasn't long before they decided to move to Southern California to pursue a career in screenwriting. No, they do not miss the snow and cold.
Their neo-noir short, Among Thieves, was produced by Sneakonthelot.com. Their feature-length comedy, Fight Belle, which was discovered on Simply Scripts, is in pre-production with Integral Pictures. In addition, they have three other independent features (The Complex, Used Car Joey and Man & Wife) in development.
Elf-Analysis is a Christmas comedy that begins in the heart of Boston and travels north. Far north. While Tony and Aimee have never been to Santa's workshop, they've often wondered what an elf would make of a Rorschach blot.