Abattoir – sneak peek at the film: How the sausage is made - post author Don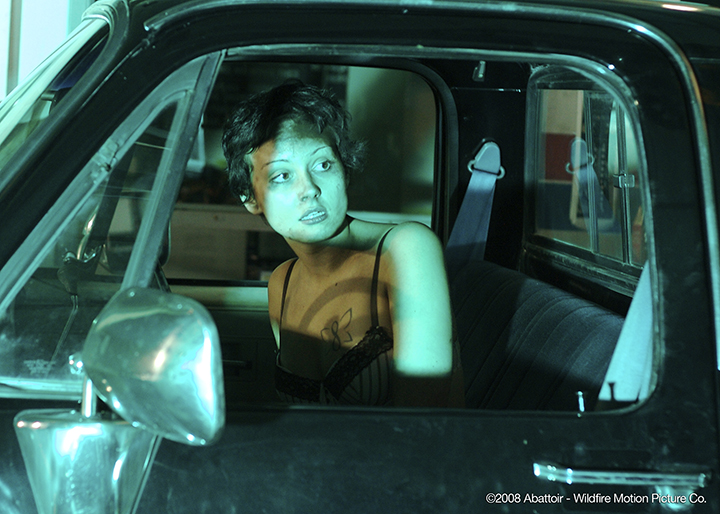 I normally don't put up trailers or sneak peeks to a film unless I have a script for you to read, however I make an exception in this case.
The script Abattoir by James McClung was written in 2005 and shortly thereafter James submitted it to SimplyScripts with the following logline.
Four young filmmakers on a road trip decide to stop at the wrong gas station and find themselves in the clutches of some sick individuals running a cannibalistic meat business. Horror – 95 pages
Over the next two years a dozen or so folks, including Mike Shelton, Zack, 'The Boy Who Could Fly', tonkatough and 'alffy' read and gave input on James' script. In late 2007 James asked me to take the script down as someone was interested in producting the script.
Important Note – The script was not picked up from SimplyScripts, but rather James actively shopped the script around. SimplyScripts had nothing to do with this script getting produced.
Flash forward to March of 2008 and James' cryptic discussion board posting entitled Back from Canada. Abattoir was being filmed by Kalman Szegvary of Wildfire film studios. James gave a great set report posting in the Movie Rumor board.
Flash forward another year and James was able to share a small unofficial Abattoir film site that he and the director put together for a class that James is taking as a Film/Media Arts student at Temple University in Philadelphia.
Below is one of two "behind the scenes looks" at the new film that you can find on the unofficial Abattoir site. The film is currently in negotiations with a distributor.
So, hearty congratulations to James. I'm thrilled that Abattoir is getting made, particularly since I've had the opportunity to see this as a first draft script to later drafts to being able to read about set visits and see pictures and look behind the scenes. I really enjoy seeing how the sausague is made going from concept to celluloid. I hope to be able to see the film in a theatre near me. And, if it becomes a cult classic, you read it here first. – Don