For the Love of God – Short Script Review (Available for Production) - posted by wonkavite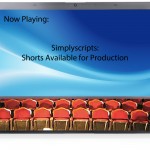 Two men of the cloth discuss a crisis of faith
Writing good scripts can be such a Catch-22. The best movies deal with important ideas… emotional and intellectual issues that get to the heart of what it means to be human. But when tackling such matters, a writer's skill is sorely tested. You gotta give the topic the deep consideration it deserves. Yet subtly enough that your story doesn't turn into a massive preach-fest, causing your audience to flee in droves.
For the Love of God manages that balance extremely well. A simple script, FLG captures a conversation between two men of the cloth – Father Flynn and Brother Mike. Brother Mike, you see, is considering leaving the priesthood. 'Cause he's – well – kind of gay. Surprisingly, Father Flynn resists Brother Mike's resignation, spurring a discussion about the ramifications of his colleague's confession… both in light of Jesus' teachings, and Brother Mike's personal life. Despite the seriousness of the ensuing conversation, FLG maintains a light yet intellectually nuanced tone – all the way to its satisfying end.
Will you agree with the arguments of FLG? Maybe. Maybe not. But a script that can handle not one, but two controversial topics so adeptly? That's top notch writing in our good book.
About the writer: Tim Westland, co-writer of the acclaimed graphic novel Chasing the Dead, received first place for Balls Out in the NNYM 15 page contest. His IMDB page can be found here.
Pages: 7
Budget: Quite low. Two main characters, one setting. Doesn't get more straightforward than that.
READ THE SCRIPT HERE – AND DON'T FORGET TO COMMENT!!
FOR YET MORE SCRIPTS AVAILABLE FOR PRODUCTION:
PLEASE SEARCH SIMPLYSCRIPTS.COM
OR THE BLOG VERSION OF STS HERE.
All screenplays are copyrighted to their respective authors. All rights reserved. The screenplays may not be used without the expressed written permission of the author.