The Magick in the Machine – Short Script Review (Available for Production) - posted by wonkavite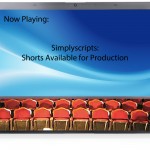 The Magick in the Machine
An aging witch, a junkie and internet porn. What could possibly go wrong?
Hostel. Saw. The Hills Have Eyes. These days, the horror genre is overrun with torture porn; a never-ending fountain gore with little humor to wash it down. What happened to dark comedy? You know: Reanimator, American Werewolf in London, or gentler fare like Heathers?
For those who prefer their scares served tongue in cheek, The Magick in the Machine may be the perfect potion: a macabre mixture of magick, mayhem, mirth, merriment, murder… and, or course, a machine.
It's the story of Sybill, a modern-day witch who has a tiny problem. You see, she's a few centuries old, and it's starting to show. But no self-respecting witch wants to look in the mirror and discover she's no longer the fairest of them all. Varicose veins and wrinkles? Like the best of the Kardasians, Sybill's ready to kill to wish them away. Using her drug-addled, porn-watching minion Todd as bait.
Up until now, the standard spells have done the trick: kidnapping young adults and using their blood as that secret ingredient in her potions. But when the blood of Sybill's latest victim (aptly named Candi) lasts for only one night, Sybill turns to technology. Luring a Thai delivery boy to the apartment, she and Todd sacrifice the teen and wire him to a laptop. The Plan: to transfer Sybill's soul to the net. She may never again be the beauty she once was, but she'll never get older, either.
But when witches and modems cross paths, the results can be unpredictable. Will Sybill reach Matrix nirvana? Or wreak a calamity of LawnMover Man proportions…?
A fun (and funny) romp through the world of witchcraft and wires, The Magick in the Machine is sure to be an audience favorite at film festivals. Cast a spell on this script, before it gets away!
About the writer: A versatile writer in several genres, Janet G. Clarke specializes in unique characters and intelligent plots. Having recently wrapped her first mainstream spec, and optioned her feature length horror "Containment", Janet has 10 additional feature lengths in her roster, and a variety of shorts. She can be reached at janetgoodman "AT" Yahoo. A full listing of her scripts can be viewed at http://www.philclarkejr.com/jec.html.
Pages: 10
Cost: Very affordable. Two interior locations – a bedroom and a living room. Minimal FX (though lots of blood.) And choice roles for a male and two female actors (young and old Sybill).
About the reviewer: Scott Merrow co-writes screenplays with his wife Paula. Since 2006, they've written over 50 short screenplays, several of which have been produced. They tend toward family-friendly scripts, but they've written a little bit of everything: horror, fantasy, sci-fi, comedy… the whole nine yards. Wanna give them a shout out? They're available at scott-paula "AT" comcast.net
READ THE SCRIPT HERE – AND DON'T FORGET TO COMMENT!!
FOR YET MORE SCRIPTS AVAILABLE FOR PRODUCTION:
PLEASE SEARCH SIMPLYSCRIPTS.COM 
OR THE BLOG VERSION OF STS HERE.
All screenplays are copyrighted to their respective authors. All rights reserved. The screenplays may not be used without the expressed written permission of the author.