The Talisman – unproduced screenplay by Richard LaGravenese - post author Don
Stephen Batchelor has a interesting article on and a copy of the unproduced screenplay of Stephen King and Peter Straub's The Talisman written by Richard LaGravenese. You can find it on Stephen's blog.
…The Talisman may set some sort of record for development hell. King and Straub had sold the rights to Universal on behalf of Amblin with the understanding that Spielberg and only Spielberg would be the one to make it… Read the Rest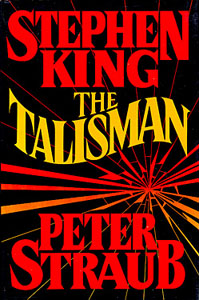 The Talisman – May 22, 1992 unproduced, unspecified draft script by Richard Lagravenese (based on The Talisman by Steven King and Peter Straub) – hosted by: Stephen Batchelor – Screenwriter – in pdf format
Twelve-year-old Jack Sawyer embarks on an epic quest–a walk from the seacoast of New Hampshire to the California coast–to find the talisman that will save his dying mother's life. Jack's journey takes him into the Territories, a parallel medieval universe, where most people from his own universe have analogs called "twinners." The queen of the Territories, Jack's mother's twinner, is also dying.
Information courtesy of wikipedia