Script Shop Show's podcast of A New Suit a great short script by Matthew Muchka - post author Don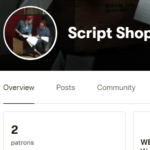 I am a regular (as of April) Patreon supporter of the Script Shop Show. I am one of two supporters of the show. That is important to remember as you listen to this podcast. You can imagine the look on my fact as I listened to this week's show where they give a shout-out to the Patreon supporter who "Isn't Allyson West's Mom…"
It's a great one.
They talk also about Bad Times at the El Royale (which I'm looking forward to watching).
They most importantly talk about this 'must-read' short script A New Suit by Matthew Muchka. It's only 11 pages – a quick read.
An aspiring hitman is accompanied by his mentor to purchase a new suit for his first job.
Listen to the show and more importantly, please support them.