Peelers Review - post author Anthony Cawood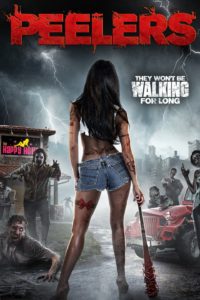 Wren Walker, plays Blue Jean, the owner of a low-rent strip club in the middle of nowhere. She's planning on shutting the club and leaving for a more normal life. But on a normal night, just a few customers and the usual issues with the dancers and other staff, her plans are changed.
A group of coal miners walk in, flush after making a discovery in the mine… only problem is that the discovery is a contaminant that is turning them into violent crazies with a blood lust that knows no bounds.
So the setup for this is pretty straightforward… the owner of a low-rent strip club must defend her club, and the strippers from the customers who have turned violent, a la Crazies, after exposure to some strange oil.
It's self-contained with almost all the action taking place inside the club and the action is fast, frequent and often gory… oh and funny too.
It's clearly very low budget, but it spends the money it has on the gory kills, which are inventive and fun, and the effects are decent given the constraints.
The theme is well mined (pardon the pun) and it owes a lot to films like Zombie Strippers and Dusk Till Dawn, and like these films it takes a great delight in its B movie  roots.
I had the pleasure of seeing/hearing the Director and Writer at a film fest in 2016, the Q&A after the film was a laugh riot and that sense imbues the entire film… definitely worth a watch if you love a good exploitation flick.
IMDB
Stream It on Amazon Prime
About the reviewer: Anthony Cawood is an award winning screenwriter from the UK with 4 short films produced and another 10 or so scripts optioned and/or purchased. Links to his films and details of his scripts can be found at www.anthonycawood.co.uk.