The Farm by Robert G. Newcomer – Featured Script of the Month - post author Don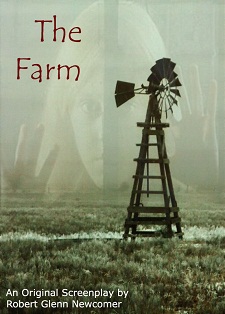 The Farm by Robert G. Newcomer
A troubled family must unite to save a young niece from the sinister forces that inhabit a snowbound northern farm. (Horror, Supernatural Thriller)
Read the Script 107 pages in pdf format
Status: Available

Writer Bio: By day, Robert G. Newcomer works as a medical and scientific writer. He holds a PhD in Biochemistry, and his writing has been published in numerous academic journals as well as a book chapter.
His favorite film is Blade Runner, but his genre of choice is Horror, as seen in his short scripts Someplace Nice and Dark and Salvage. He gave voice to Tanis, narrator for both seasons of the SoulShadows series, and counts his forever-in-progress adventure series Starbuck Starr amongst his personal favorites of his works. Growing up, he spent his summers on an Indiana farm, and notes that the house and every prop found in The Farm, from the windmill on down, do exist in real life.
Robert (bert) is also a moderator for the SimplyScripts discussion board. He was raised in Florida, but has recently moved to the Philadelphia area with his wife, his two sons, and his evil cat. Since arriving up North, he is still trying to figure out the food, the weather, and how he has inexplicably ended up owning four chickens.