Short Play Festival in New York City this weekend - post author Don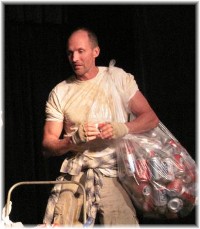 Strings Attached Theater Company presents:
Page to Stage
Short Play Festival
See the result of Strings Attached's collaboration with up-and-coming playwrights and directors as their work makes its stage debut.
The exploration of filling the void in one's life often leads to happenstance experiences. One finds fulfillment or merely ends up where they started… Come see what happens!
Empiricalby Tariq Hamami
directed by Pirronne Yousefzadeh
featuring
Mike Lavoie, Amanda Broomell, Paul Terzenbach
Mission Unaccomplished by Craig McNulty
directed by Amanda Joshi
featuring Benjamin Becher, Aubrey Mozino
Aluminum Foil by Geoff Schuppert
directed by Alexis MacDonald
featuring Keith Boynton, Christopher LaPanta
(pictured above)
Night Train by Mel Nieves
directed by Shawn Renfro
featuring Brendan Wahlers, Alexis MacDonald
Sept 9th, 11th, 12th @ 8pm
Sept 13th @ 3pm
above dates include all plays including Night Train
Exclusive performances of Night Train:
Sept 10th @ 7pm & 9pm
Sept 12th @ 2pm
Roy Arias Studios & Theatres
300 West 43rd Street, 5th Floor
New York, NY
1-800-838-3006 event #77543
Tickets $20.00