Over the Beach: US Army Amphibious Operations in the Korean War - post author Don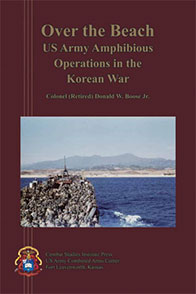 Over the Beach: US Army Amphibious Operations in the Korean War
Yes, you are right. This has nothing to do with scripts or screenwriting.
If you are a historian or fan of military history you might find this of interest.
My father, at the behest of the Combat Studies Institute, has written the definitive history of US Army amphibious operations during the Korean War. Chapter two has a great overview of Army amphibious warfare from pre-American Revolutionary war to the modern era. At over 500 pages it may be a little thick for most folks, tho toward page 435 there are some neat pictures of landing ships and craft used during the Korean War.
Over The Beach is a free PDF download available at the Combat Studies Institute. – Don