Screenwriter Expo field report - post author Don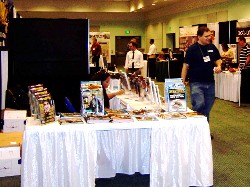 Thanks to Slap Shot for his quick Screenwriting Expo field report.
Slap Shot writes: Here's a couple of pics from the expo. I had a lot of fun. I'll be going back today for some more. The one thing I took away from yesterday's seminars is that when we write, remember that you are not writing for an audience, you are writing for the READER (who has a stack of other scripts to read) the goal is to make the words jump of the page while being as brief as possible..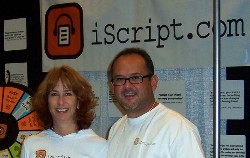 Picture left would be Lori from the excellent iScript.com which was one of the exhibitors at the Expo. Word has it that they are using one of the OWC selected scripts as a demo. iScript.com has been a great supporter of the SimplyScripts One Week Challenge.
Click either of the images to embiggen them. Photos courtesy of Slap Shot.
The Screenwriting Expo is going on until Sunday. You can register at the venue only.