Dr. Who season four (well, actually season 30) scripts - post author Don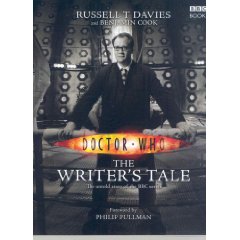 Thanks Tom for the heads up on six teleplays from Season 30 (season 4 of the 'new' series) of Dr. Who. These come from the promotional site The Writer's Tale by Russell T Davies (showrunner for the first four new seasons of Dr. Who) and Benjamin Cook. The book explores Russell's work on Series Four, revealing how he plans the series and works with the show's writers, where he gets his ideas for plot, character and scenes and how actors are cast and other creative decisions are made. The book is available from Amazon.com.
Check them out over on the TV Scripts and Transcripts page.
Edit: Thanks Peter for the clarification. This is Season 4 of the new series. Counted from the beginning of the original series, it would be Season 30. However, it is the 11th Doctor (canonical). – Don
Edit again: David Tennant, again as corrected by Peter, plays the 10th Doctor.