The October One Week Challenge Selectee is… - post author Don
---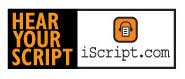 The October One Week Challenge (OWC) theme this month was, "It is October 31st and a community is being invaded, however everyone thinks it's a hoax. Two kids know the real truth… ". The genre was Young Adult.
As has been mentioned repeatedly, the OWC is a challenge, not a contest. There are no winners, however, if you take up the challenge to write a script in one you, you are, by definition, a winner. You can read all thirty-one of the winning scripts here.
As is tradition, one winning script is selected to be audio performed. The selection process varies. This month, the scripts were selected with the aid of two young adults who read a selection of scripts and picked six, of which three were sent to iScript.com. The folks at iScript.com made the final script selection.

The selected script is Mister Schultz's Zombie Army by Phil Clarke Jr. .
Mikey and Bobby are the only ones who can stop the mad scientist next door. (11 pages in pdf format)
You can read the pdf version of the script here. You can discuss this script and all the OWC entries here.
So, turn up your speakers or put on your headset and click the play button below and listen to the script read by iScript.com.


One Week Challenge Selectee
[ 12:07 ]
Play Now
|
Play in Popup
|
Download
(2998)
Let me know you thoughts on the Discussion Board.
Thank you iScript.com for sponsoring the challenge.