Monkey Bones Script, Writer's Strike and What I've been reading - post author Don

Thanks to Leon for the heads up on the lastest over on Daily Script – Monkeybone. This is a February 3, 1999 seventh draft by Sam Hamm (based on the comic book 'Dark Town' by Kaja Blackley and Vanessa Chong). Sam Hamm has written, in my opinion, some of the best unproduced scripts out there. A quick search of Sam Hamm in the Script Search shows he's written unproduced sequel to Batman, as well as Planet of the Apes and Watchmen. Monkeybone, which came out in 2001, is about a cartoonist who finds himself trapped within his own underground creation and must find a way to get back, while racing against his popular but treacherous character, Monkeybone. The film starred Brendan Fraser and Bridget Fonda. Check it out over on the Movie Scripts page.
Thanks to "Tierney Cat" for his insightful posting on the discussion board on a breakdown of what a WGA writer might typically earn. I think this sums it up pretty well, I'm on strike for the future of my union, for my health insurance and my pension. Right now, it's sadly not about the writing which I love but about the business of writing which always plays like black comedy. Check out the rest of his post here.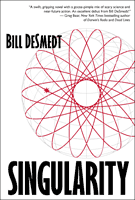 I've just finished listening to Bill DeSmedt's Singularity and thought I'd share. You can listen to the book over at Podiobooks.com. You don't gotta have an MP3 player to hear the story. You can listen to it right on your computer.
On June 30, 1908, there was a massive explosion near the Podkamennaya Tunguska River. It was called the Tunguska Event. The explosion felled an estimated 80 million trees over 830 square miles. Yes, it was a big boom. Against this back drop, Bill DeSmedt's Singularity weaves a present day tale of an astrophysicist, a rookie agent and an analyst who unearth a scheme to capture the submicroscopic black hole that caused the Tunguska Event and use its awesome power to transform the world. If you enjoy Tom Clancy and Michael Crichton you will dig this taut, fast-paced thriller. It is well read by the author – voices and all with plausible near future science and technology.
WGA – Day 6 – Strike news and insight over at Diaretical Throw-Up by David Press