We interrupt your regular programming… - post author Don
…to introduce a new audio book, Playing For Keeps by Mur Lafferty.
Playing for Keeps, launching November 1st, …tells the story of Keepsie Branson, a bar owner in the shining metropolis of Seventh City. Keepsie and her friends live among egotistical heroes and manipulative villains, and manage to fall directly in the middle as people with powers, but who just aren't strong enough to make a difference. Or that's what they've been told. As the city begins to melt down, it's hard to tell who are the good guys and who are the bad guys.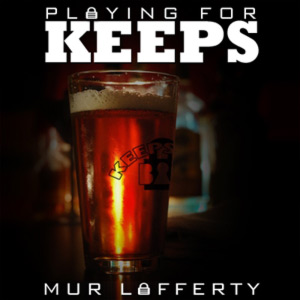 Playing for Keeps will be a unique podcast experience: you have the ability to subscribe to just the audio version of the novel or you can subscribe to the "PfK Experience", where you will receive in the feed a PDF of the episode including art, links to content you can?t get on the audio feed, and a short supplemental podcast called "Stories of the Third Wave".
Check out the site Playing For Keeps. The first espisode is available at Playing for Keeps.
Mur Lafferty is a North Carolina based writer who has written numerous short stories like my personal favorite, the funny and touching I Look Forward to Remembering You as well as the audionovel series Heaven.