The One Week Challenge Theme and Genre are: - post author Don
---
Disclaimer: The follow is a work of fiction for the purposes of the July/August 2007 One Week Challenge on simplyscripts.com. This is a fictitious email to set the theme and genre of the one week challenge. In no way should any infer from this email that the script submitted will be produced or made into a movie.

Begin the fiction:
Subject: I need a script.
From: ta.g@@xxxxxxxx.com
Date: Sat, July 28, 2007 11:59 pm
To: webmaster@simplyscripts.com
Priority: High
Don:
I need a short script and I need it in a week. I have an investor who is willing to put up a sum of money and property to film. The constriants are:
It needs to be a Thriller (It can be a thriller in the broadest sense of the word, so I'm open to crime stories, supernatural/noir/scifi/comedic/romcom elements. But, it has got to be a Thriller. I need to be thrilled. Also, very important, below find a picture of the set. I got a boat. The boat floats and can be moved. Best yet, we can do anything we want to the boat. Anything .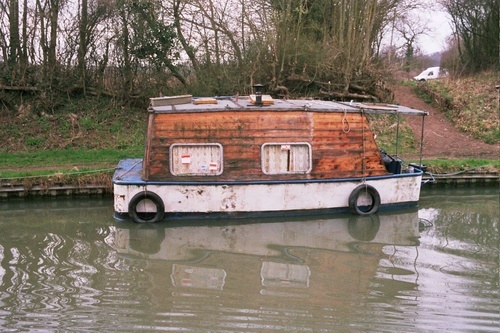 As you know, a magnesium flare went off in my face a few weeks ago. I can't see anything. I haven't seen the boat, yet, so I'm going to have to rely on the script to give me an idea of what I'm dealing with. I've asked iScript.com to record the script you select. As you know, iScript.com Lets You "Hear Your Script." They turn scripts into mp3s! You upload a script – they record it using professional readers and picky sound editors – you download your iScript! Burn CDs, listen on your iPod, submit it to execs, producers, agents. Now people can hear your script while driving, jogging or relaxing. .
Can you help me out?
Thanks,
Ta

[end fiction]
There you have it folks. Write a 15 page or less script (in proper screenplay format). It has to be a thriller and has to incorporate the boat. Please submit your scripts no later than Saturday, 11:59 pm August 4th, 2007. This is a free contest and as a result, you have no chance of winning anything at all. One script will be selected to be performed by iScript.com. If you are ready, submit your script here. If you need clarification or just want to talk about the topic, visit the Discussion Board. It is free to sign up.
Don
Further clarificiaton: This is a free challenge. There is NO cost to enter. There are NO prizes. Your script will NOT be produced. You will get NOTHING out of this challenge other than a warm feeling in your stomach that you have participated. iScript.com has agreed to audio produce one (1) script of my choosing.