Lost scripts, Dr. Who, Drive and unproduced scripts - post author Don
Thanks to Ron and the two anonymous individuals for their kind and generous donation to SimplyScripts.
Shout out to John and Renee, two scriptarians who attended the Harry Potter party at the Whistlestop Bookshop friday night.
For those hunting around for the lost Lost scripts (not transcripts) those can now be found here.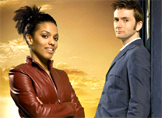 Updated the TV Scripts and Transcripts database where in you will find, among other things the first episode of season three of Dr. Who – Smith and Jones. This comes from BBC's Writer's Room which also has teleplays of episodes of Life on Mars, Casualty and Hustle. Find also on the TV Scripts page, thanks to Weekly Script, episode 2 of Deadwood and, thanks to TimMinear[dot]net, you can read the last to episodes of Drive. (You can also watch the last two episodes of Drive on the Fox Myspace page.
Lastly, I've cleared out the backlog of Unproduced scripts which you can find on the unproduced scripts page. – Don