Pilot Teleplays and Godfather and Last Action Hero - post author Don
Before I begin, just a quick word to all the up and coming scripts sites out there. Folks, I've gotten quite a few e-mails from scripts sites lamenting the fact that a lot of sites out there are deep linking to scripts, passing them off as their own, without giving props to the folks who took the time to get the scripts online. This is counter-productive. Please, give props to the script sites that post scripts on their site. You will be rewarded ten fold. Too many script sites stop posting scripts because nobody acknowledges the work they do or simply leach the script away to another site. Be like ScriptCrawler. He shows you where the scripts are and who took the time to get the script on the 'net. Also, marvel at ScriptCrawler's new look. Shiny.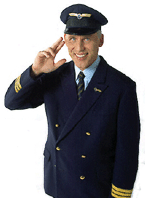 So, on to the scripts. See the pilot? Yep, a ton of pilot scripts on the 'net. Just another Guy in Hollywood has four pilots up – Supernatural, Arrested Development, The Five Mrs. Buchanens: Pilot and Dark Shadows. He's also got a few more teleplays up, too numerous to mention. Those and other 'pilots' available on the TV Scripts page.
On the Movie Scripts front, Thanks to "pisant" for the heads up on this script to Godfather part 3 thanks to Screentalk. And, thanks to Vern (God love 'em) and Awesome Film we have a compare and contrast opportunity. Compare and contrast the first draft of Last Action Hero by Zak Penn and Adam Leff with the draft revised by Shane Black and David Arnott and doctored by William Goldman. You may begin your seven page essay on the movie scripts page. – Don