Wonderland Transcript and The Village Script (was The Woods) - post author Don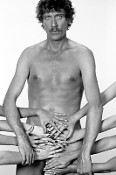 Thanks to "Del-Ray" and Awesomefilm there is a wonderfully well done transcript (not the script kids, sorry,) of Wonderland which fictionally documents the later life of the mythic porn star John Holmes. It starred Val Kilmer, Lisa Kudrow (of ?Friends? fame) and Kate Bosworth and documents Holmes' involvement in the gruesome Wonderland Avenue drug-murder case where the bodies of four people were found bludgeoned to death. Keen on learning more? Visit charliemanson.com?s page on the The Wonderland Murders.
Thanks to Anonymous and Horror Lair an early draft of M. Night Shyamalan?s The Village (before it was The Village and known as The Woods) is available to read. These and more would be available on the Movie Scripts page.
Hey Dean! Great to hear from you, again. Jeez, thought you'd died in some drug-murder-bludgeoning-gone-horribly-wrong thing. Glad to hear that you were just doing a lot of writing. Seriously, I'm working on that whole fantasy/reality blurring thing. Behind in the updates, as usual.
More Later,
Don