Ticker and They?re made out of meat. - post author Don
Thanks to Ken and Daily Script there is an early, early draft of Paul Margolis' Ticker. That would be on the movie scripts and screenplays page.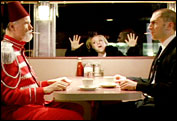 Now for something completely different.
Terry Bisson (Hugo and Nebula Award Winner) wrote a hilarious short called, "They?re made out of meat". Stephen O'Regan filmed the short story which later won Grand Prize at the Science Fiction Museum's SF Short Film Festival in Seattle in February of this year. You can view it here. If it doesn't work you can try viewing it on Atom Films or on You Tube. If the video doesn't work, you can read the story and use your imagination.
.