Script Shop Show podcast – Texas Annie "Legend of the Moan Ranger" by Jennifer Howd & Ross Mihalko - post author Don
---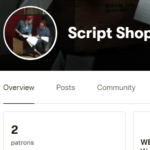 I am a regular (as of April) Patreon supporter of the Script Shop Show. I am one of many supporters of the show. You should be a supporter, too.
They most importantly talk about this feature script Texas Annie "Legend of the Moan Ranger" by Jennifer Howd & Ross Mihalko.
"Texas Annie tells the musical tale of a renegade dildo runner in Texas when sex toys are declared illegal."
Listen to the show and more importantly, please support them. And check them out on twitter. Twitter is their jam.