Count Down to Halloween – I Know What You Did Last Summer script - post author Don
---
With Halloween fast approaching and writers furiously working on his/her October One Week Writing Challenge scripts, I thought I'd add some inspiration.
-Don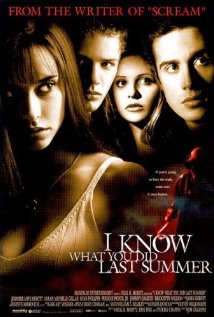 I Know What You Did Last Summer – March 12, 1997 third draft script by Kevin Williamson (based on the novel by Lois ducan) – hosted by: Horrorlair – in pdf format
Adaptation of Lois Duncan's thriller about four teenagers trying to cover up a hit-and-run. Love Hewitt plays Julie, a high school senior who goes trip with her friends and accidently hits a fisherman. They think he is dead and dump him into the waters. But later they get a strange letter that says "I know what you did last summer."
Information courtesy of imdb.com
More scripts, horror and otherwise, on the Movie Scripts page.