Knives Out screenplay is out for your consideration - post author Don
Thanks Kelly and No Film School for the heads up on another script that studios are posting for award consideration.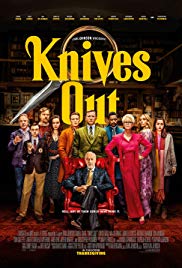 Knives Out – undated, unspecified 'screen script' draft script by Rian Johnson – hosted by: Lionsgate – in pdf format
When renowned crime novelist Harlan Thrombey is found dead at his estate just after his 85th birthday, the inquisitive and debonair Detective Benoit Blanc is mysteriously enlisted to investigate. From Harlan's dysfunctional family to his devoted staff, Blanc sifts through a web of red herrings and self-serving lies to uncover the truth behind Harlan's untimely death. 
Information courtesy of imdb.com