Script Shop Show – The Hit by Clint Horvath - post author Don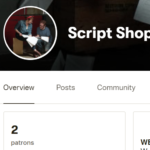 I am a regular (as of April) Patreon supporter of the Script Shop Show. I am one of many supporters of the show. You should be a supporter, too.
They most importantly talk about this feature script The Hit by Clint Horvath.
In the midst of his hired kill, a Hitman is visited by his drug abused Uncle and learns the essence of life from his six-year-old cousin.
Listen to the show and more importantly, please support them. And check them out on twitter. Twitter is their jam.