Script Shop Show podcast – Power Play by Nick Tassoni - post author Don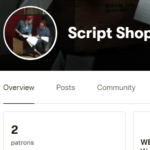 I am a regular (as of April) Patreon supporter of the Script Shop Show. I am one of four supporters of the show. And, I'm waiting for my 'shout-out'. And I got it! I got my shout out. For my twitter… (sigh).
They most importantly talk about this short script Power play by Nick Tassoni.
A young woman attempts to escape from her overly polite abductor in an abandoned coal power plant.
Listen to the show and more importantly, please support them.