Original Script Sunday for October 7th and Shifters - post author Don
Over on the Unproduced Scripts page are eight original scripts for your reading pleasure.
And when you are done reading, may I interest you in a free, full length horror movie?
Who doesn't love a full free horror movie? SHIFTER is a new vampire movie with all the chills of classic vampire movies and all the blockbuster thrills of a teen screams cabin in the woods movie! In this genre-bending action horror thriller, eight young friends on a weekend vacation are pulled into an eternal struggle between two ancient and powerful beings.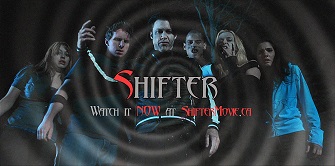 Watch it NOW at ShifterMovie.ca
This is the kind of late-night movie your 14 year-old self would sneakily rent for a sleepover with your best buds…so make sure you've got some people to share the laughs and screams (and beers) with!
And save future you a few minutes and subscribe to California Balloon Films You Tube Channel. A little bird (named Chris) told me that there will be some future movies there tht future you would love.