Little Men screenplay - post author Don
Thanks to John for the heads up on this Independent Spirit Award nominated screenplay.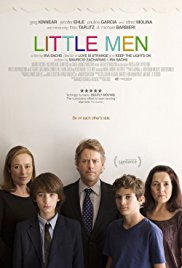 Little Men – July 27, 2015 shooting draft script by Ira Sachs & Mauricio Zacharias – hosted by: Indie Wire – in pdf format
13-year-old Jake befriends Tony, raised by his mother Leonor . A feud ignites between the parents, Brian and Kathy and Leonor – the boys remain silent against their parents in protest.
Information courtesy of imdb.com
Find more movie scripts on the Movie Scripts page.