Ghoulies II Screenplay - post author Don
Ghoulies!…
Thanks, John, for sending me down this Ghoulish rabbit hole. Check out the Ghoulie Movies website with information about all the movies in the Ghoulies franchise. And, check out the draft of the Ghoulies II screenplay.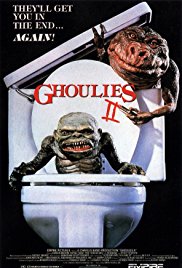 Ghoulies II – October 8, 1986 4th Draft script by Dennis Paoli – hosted by: Ghoulies Movies – in pdf format
Ghoulies II picks up a short time after the first movie, a few of the little nasties stow away on an amusement park ride and bring big bucks to a dying fair. The creatures are mad after an attempt to kill them, so the creatures go on a rampage through the fairgrounds, ultimately leading to an explosive conclusion!
Information courtesy of imdb.com